Why Rituals; emphasis on strict Observance, no deviation permitted-All to inculcate the quality of Self-discipline - not at ll possible to accomplish otherwise, internal or external-INTROSPECTION ALONE IS THE IDEAL MEANS TO ACHIEVE THAT GOAL
Up-Date
.
Jesus, The Cross, A Thief, and Forgiveness
The above narrative is one of the most touching in the entire Bible. While the Lord was experiencing the physical, emotional and perhaps even spiritual agony of the cross, he still expressed the divine nature of His love for man.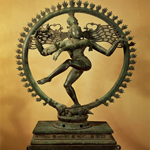 Nataraja is a visual interpretation of Brahman and a dance posture of Lord Shiva. It is the representation of reality at the time of cosmic destruction. We being life forms, cosmic destruction would mean the disappearance of all life. The half moon shown in the head of Nataraja is a symbol only. The fall of the moon would result in cosmic destruction. Here are 20 most amazing, spectacular Nataraja images…
| | |
| --- | --- |
| | What are the costs of all that self-control? Experts suggest that self-control acts like a muscle; it's a limited resource that can get tired from too much exertion. They argue that after people exert self-control, they enter a state called "ego depletion" in which the will is weakened. This has wide-ranging consequences: Depleted people are more likely to overeat,display more aggression, cheat on their partners, spend more money impulsively,make irrational and uncompromising decisions, and generally respond in a myriad of unhealthy ways. |
Unknown facts about Buddha that will blow your mind
TOI
If I were a dictator, I would introduce Gita in Class I: Supreme Court judge
How to Build Self Confidence.
BS
Glenmark's monoclonal antibody enters human trials stage

With this, Glenmark now has three monoclonal antibodies in clinical development Read More »

Xtract (specimen)

< OX40 is a very well validated target with the potential to treat a wide array of autoimmune diseases. However, discovering antibodies that inhibit OX40 and do not have agonistic properties, which would lead to unwanted side effects, has proven very difficult and based on Glenmark's data GBR 830 is devoid of any agonistic properties.>

A mind boggling , brain tweaking /twisting topic; no ordinary mortal can even remotely venture to try and undeestand an iota of it.

Anyway, READ ON >>>



<> All these have increasingly come in vogue, and trying to overtake the law of nature- to be precise so called natural demise, in ts intuitively profound sense, in the name of research, advanced research, so on entailing mixed blessings and curses. In the ultimate analysis, if were to be true to the humanity with a devoutly altruistic concern to its well being, none can refrain from giving vent to an honest feeling that, the DEVIL (human brain)'s workshop is at it on three shifts, rather on a single shift but extending to the time scale of full 24 hours. ! Do the humanists or humanitarians, let alone so dubbed 'philosophers' belonging to varying species,around have any thing to add or say emphatically whether at all,- is it GOOD or BAD that is in store for the unforeseen future?









While you are protecting yourself, you are destroying your very life. Protection is death, because only those..
<

That instantly brings to one's mind the age old story of a 'king' of hoary past. Astrologer cautioned him that his death will come through a venomous snakebite. Driven by the inevitable human trait of 'security' , he got a totally insulated and tightly guarded castle specially designed , built by his royal architect, and shut self in, thinking thereby he could prove the astrologer wrong. But, Lo! as willed by PROVIDENCE, his end came in the form of a tiny worm inside his favorite fruit , mango, lovingly sent by his own beloved queen and brought to him under extreme 'security' , of the imaginable highest order.
<<<<<<<